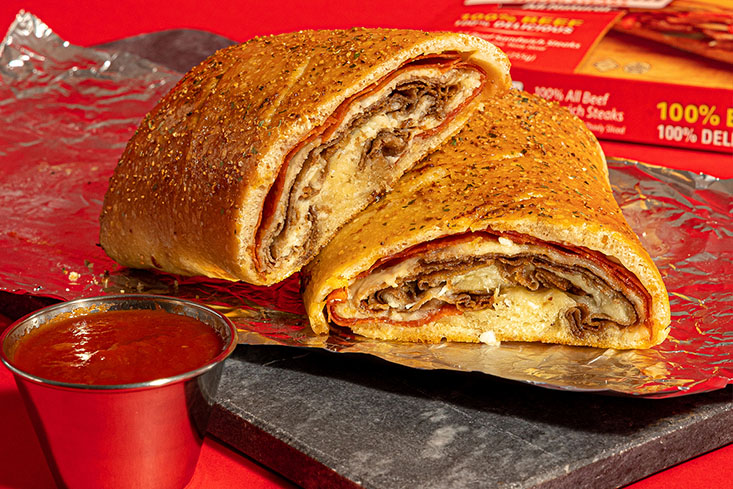 Strummboli
1 lb pizza dough*
6 slices of Steak-umm Sliced Steaks
1/4 lb. pepperoni
1 1/2 cups shredded mozzarella cheese
1 egg + 1 tbsp water mixed together (optional)
1 1/2 tsp pizza seasoning (optional)
Marinara sauce for serving
Preheat the oven to 400 degrees.
Cook steaks as directed on package. Set aside.
Lightly dust a large working surface as well as a rolling pin. Roll out dough into a rectangle 10×12 inches long.
Layer the steaks, pepperoni, and mozzarella cheese.
Tightly roll up the dough, jelly-roll style. Tuck the ends under and pinch everything closed.
Optional: brush the strummboli with egg wash and sprinkle pizza seasoning on top.
Cut 5 slits into the top of the strummboli.
Place on a greased baking sheet and bake in the oven until golden brown and crisp, about 20 minutes.
*Pizza dough can be found freshly made or frozen. If frozen, let dough defrost in the fridge for 6-8 hours or overnight in a greased bowl covered with plastic wrap.