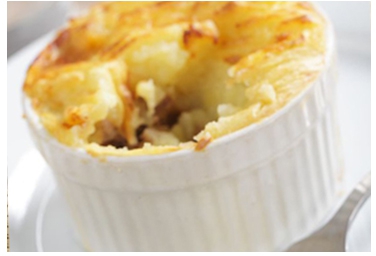 Steak-umm® Shepherd's Pie
8-12 Steak-umm® Sliced Steaks
1/2 cup diced onion
6 oz. jar of sliced mushrooms (drained)
1 lb. bag frozen corn, thawed
1 pkg. instant mashed potatoes cheese (4 servings)
10.5 oz. can beef gravy
2 Tbsp. Parmesan cheese (grated)
Preheat oven to 425°F. In nonstick pan, cook steaks as directed on package along with onion, chopping steak with utensil as you cook; add mushrooms and stir until combined.
Spoon steak mixture into a casserole dish coated with cooking spray. Top with corn, and spread gravy to cover.
Prepare mashed potatoes as directed and spread on top. Sprinkle with Parmesan cheese. Bake for 30 minutes or until thoroughly heated.
4-6 servings