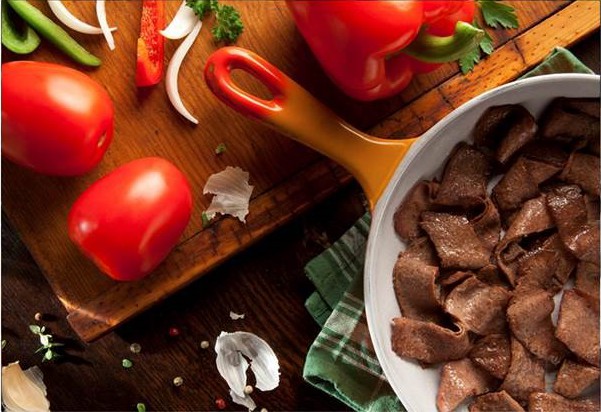 Steak-umm® Pizza Wedges
9 oz. pkg. Steak-umm® Sliced Steaks
2 thin crust pizza crusts (12-inch rounds)
1 cup shredded mozzarella
1 cup shredded provolone
1 medium onion, sliced
1 cup shredded lettuce
2 medium tomatoes, sliced
Mayonnaise
Cut frozen steaks into 1-inch strips and cook as directed on package, set aside on paper towels. Bake pizza crusts as directed on package, but remove one crust a few minutes early.
Arrange cooked steak on top of this pizza crust. Top with cheeses and onion. Return to the oven and heat until cheese melts. Place second crust in oven just to heat. Remove both crusts from oven and cover pizza with lettuce and tomato slices.
Spread mayonnaise on the second pizza crust and place over the pizza with steak and toppings to create a sandwich. Cut in wedges and serve.
Optional: Add garlic or other seasonings to taste. Instead of mayonnaise, use your favorite spread (ranch, chipotle, southwest) or other dressing.