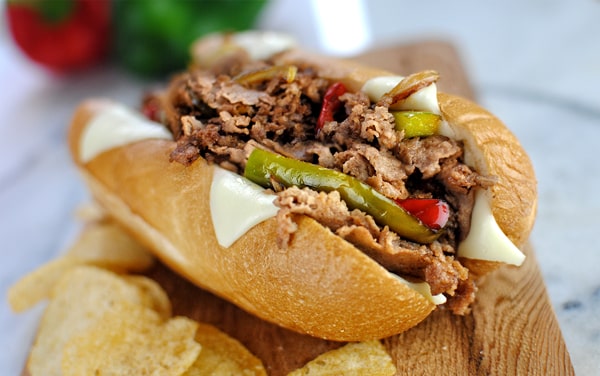 Steak-umm® Philly Cheesesteak Sandwich
2-3 Steak-umm® Sliced Steaks
Sliced onion
Sliced peppers
In skillet, cook sliced onion and peppers in 1 Tbsp. vegetable oil over medium heat until tender. Set aside. Cook steaks as directed on package. Place cooked steak in a steak roll. Add onion and peppers. Top with cheese and your favorite steak sauce, if desired.
Tip: A Steak-umm® cheesesteak is just as good reheated! Simply seal the cheesesteak mixture (not the roll) in a microwave-safe container, take it to work, etc., and microwave until warm. Serve the warmed mixture on bread, in a roll or a salad, or on its own. Enjoy!
For fun-sized sandwiches perfect for kids, use dinner-size rolls!