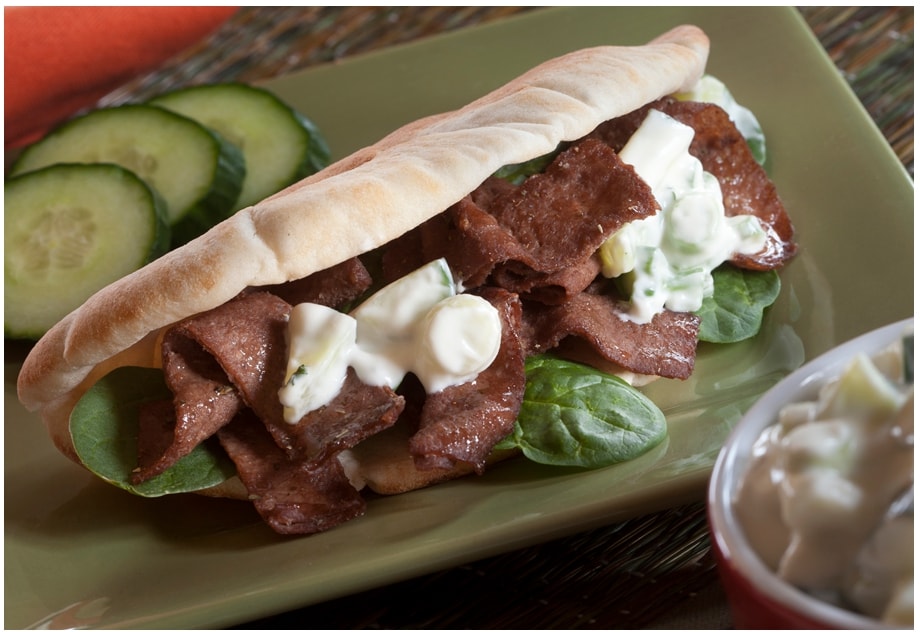 Steak-umm® Gyros
9 oz. pkg. Steak-umm® Sliced Steaks
8 oz. container low fat plain yogurt
1/2 medium cucumber, peeled and chopped
2 green onions, sliced thin
1 Tbsp. snipped fresh mint or 1 tsp. dried mint
1/4 tsp. sugar
1 Tbsp. red wine vinegar
1 tsp. dried oregano
1/2 tsp. garlic powder
1/2 tsp. salt
1/2 tsp. black pepper
1/4 tsp. onion powder
1/4 tsp. ground cumin
3 6-inch pita breads, cut in half
1 cup chopped fresh spinach
Blend yogurt, cucumber, green onions, mint, and sugar. Cover and chill to let flavors blend. Combine vinegar, oregano, garlic powder, salt, pepper, onion powder and cumin.
Cut frozen steaks into 1-inch strips and cook as directed on package, stir in vinegar and herb combination and toss to combine.
Assemble each gyro with steak mixture and fresh spinach. Top with yogurt and cucumber sauce.
Makes 6 gyros