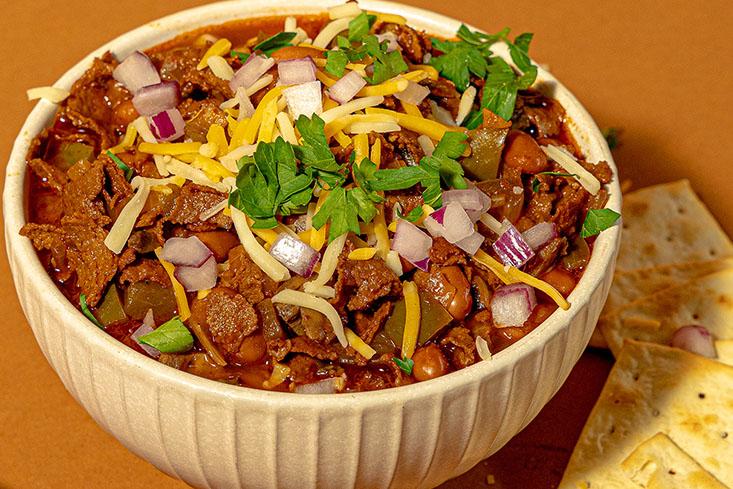 Steak-umm Chili
1 lb. box Steak-umm
2 tbsps. unsalted butter
2 yellow onions, chopped
2 green bell peppers, chopped
1 tsp. kosher salt
1/2 tsp. coarse ground black pepper
2 -15.5 oz. cans pinto beans, drained and rinsed
8 oz. mushrooms, chopped
1/4 cup tomato paste
3 tbsps. chili powder
4 cups beef stock
2 tbsps. Worcestershire sauce
6 oz. shredded cheese and 1/4 cup diced red onions
In a large pot over medium heat add the Steak-umm, break it into pieces and sauté until brown.
Remove Steak-umm and discard excess fat in pan. Add the butter, onions, bell peppers, salt and pepper and cook them until they are softened and translucent, about 3-5 minutes.
Add the cooked Steak-umm, pinto beans, mushrooms, tomato paste, chili powder, beef stock and Worcestershire sauce and stir well.
Bring it up to a boil, reduce to a simmer (low heat) and cook for 25 minutes then sprinkle individual servings with shredded cheese and red onions as needed.