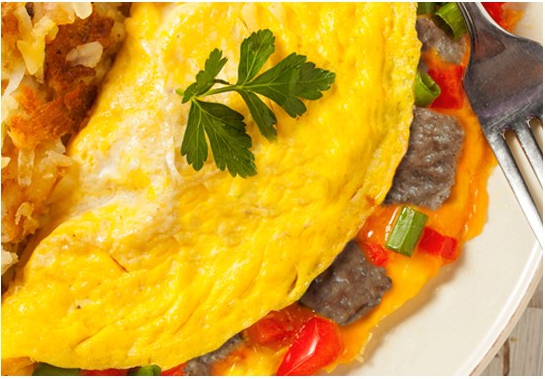 Steak-umm® and Pepper Omelet
1-2 Steak-umm® Sliced Steaks
¼ medium red pepper, diced
2 eggs
2 Tbsp. milk
2 Tbsp. butter
¼ cup shredded cheddar cheese
1 green onion, sliced
Salt and pepper
Cut frozen steaks into 1-inch strips and cook as directed on package; set aside. In same skillet, sauté peppers until just tender. Set aside with the cooked steak.
In a mixing bowl, beat the eggs with the milk. Add salt and pepper to taste.
Heat skillet on medium and melt butter. Pour egg mixture into skillet. Gently lift the edges of the omelet with a spatula to let the uncooked part of the eggs flow toward the edges and continue cooking for 2 to 3 minutes.
When the eggs are set but the top is still moist, sprinkle with cheese, cooked peppers, steak and green onion.
Using a spatula, gently fold one edge of the omelet over the fillings.
Let the omelet cook for another 2 minutes or until the cheese melts, and serve.