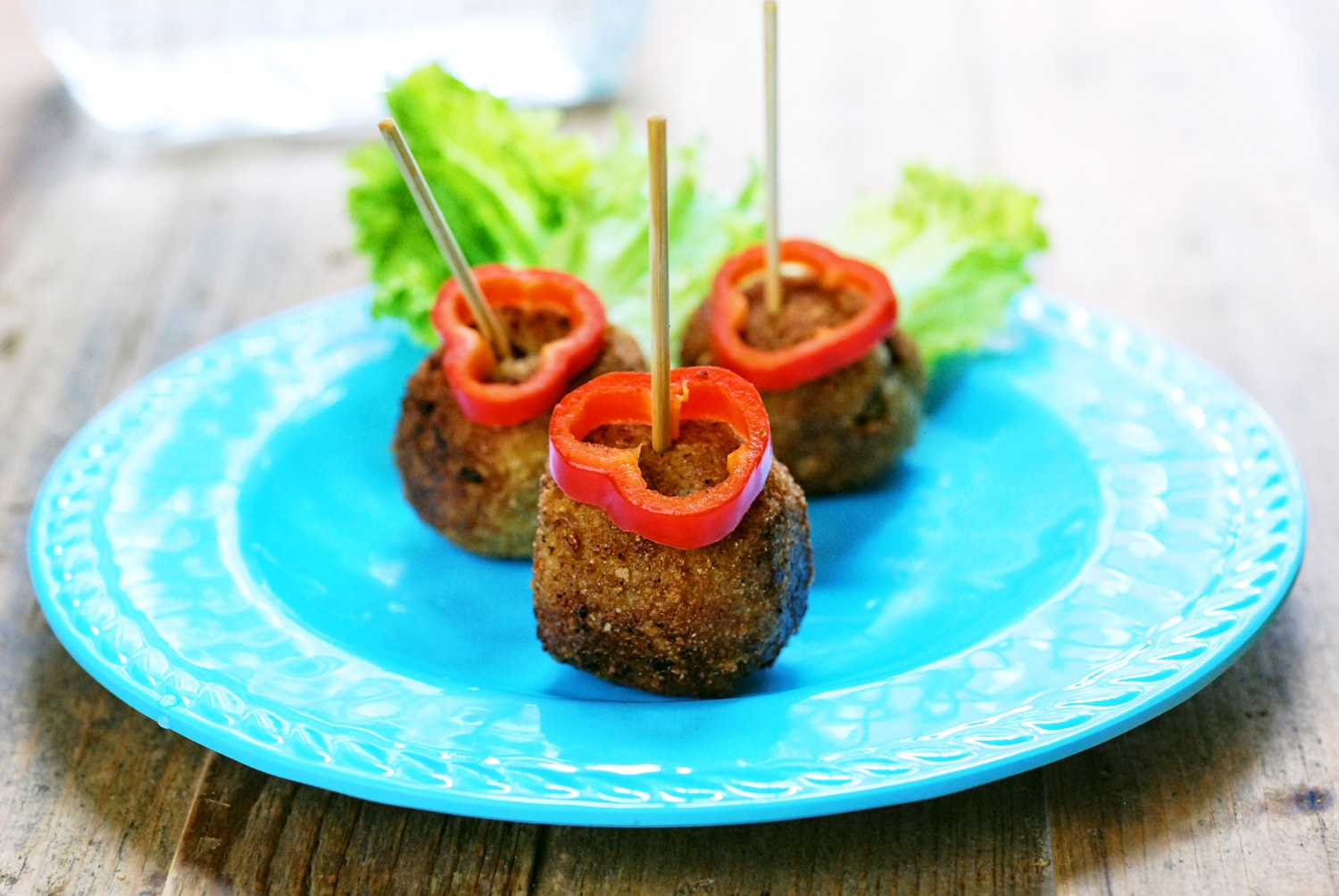 Steak Balls of Fire
9 oz. pkg. Steak-umm® Sliced Steaks
2 Tbsp. butter
1 cup or 1 medium chopped onion
2 Tbsp. or 5 cherry peppers (seeds removed), chopped
8 oz. softened cream cheese
8 oz. pkg. shredded cheddar cheese
Salt and pepper to taste
1 cup flour
2 eggs
2 Tbsp. milk
2 cups Japanese panko bread crumbs
Cooking oil
1 deli pickle
Add 1 Tbsp. of butter to a skillet and melt on medium heat. Add steaks and cook until done, breaking up with a spatula as cooking. Once done, place on a paper towel-lined plate. In the same skillet, add the remaining butter, onions, cherry peppers, and salt and pepper, and cook until onions are translucent. Add the steaks back to the skillet and mix so that the onions/ peppers and steaks are well incorporated. Set aside and let cool down to room temperature.
When cooled, add steak, onion and pepper mixture, and cheeses to a large mixing bowl and mix everything together. Then start making golf-ball size balls and put them onto a cookie sheet until mixture is finished (usually makes about 18-20 balls). Place tray into the refrigerator for about 10 minutes to allow them to set.
Meanwhile, set up your dredging or breading station. Put the flour in one bowl, the well-beaten eggs and milk in another bowl, and the panko bread crumbs in another bowl. Take a ball and place into the flour, then the egg and milk, then the panko, and repeat until all are breaded. Heat oil in a deep fryer or a frying pan to 375° F and cook for 2-3 minutes or until golden brown.
Serve on top of a slice of pickle.
Submitted by: Pat Mullen, This Old House Ladder 16, Philadelphia, PA