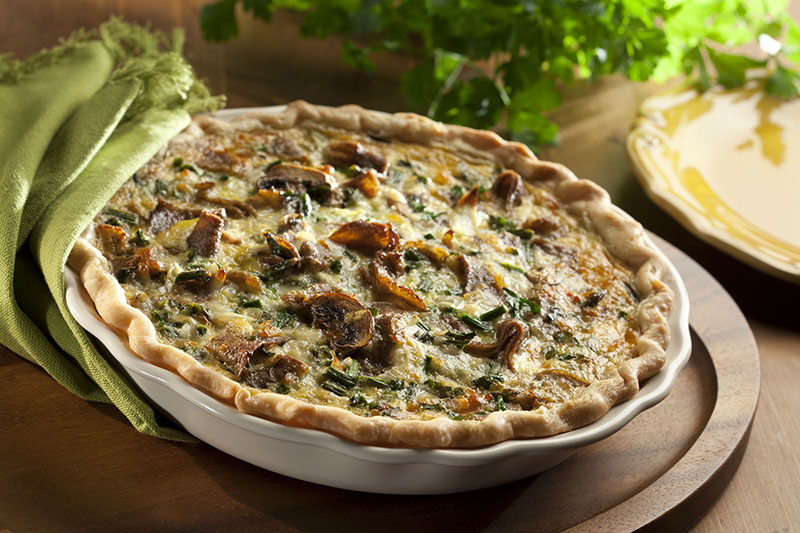 Real Firefighter Quiche
1 premade frozen 9″ pie crust, room temperature
2 tsp. spicy brown mustard
4-6 Steak-Umm® Sliced Steaks, cubed
1 lb. fresh asparagus, bottom (thick end) 1/3 snapped off/discarded, tops cut to 1/2 inch pieces
1 medium Vidalia onion, chopped
2 garlic cloves, chopped
1/2 cup fresh sliced mushrooms
1/4 cup butter, cubed
4 eggs, beaten
2 cups (8 ounces) finely shredded part skim mozzarella cheese
1/4 cup fresh parsley, chopped
1/2 tsp. salt
1/2 tsp. fresh ground pepper
1/4 tsp. fresh basil (about 2 large leaves), cut into ribbons (chiffonade)
1/4 tsp. fresh oregano, chopped
1/4 tsp. fresh sage, chopped
Preheat oven to 375°F. Spread inside bottom and sides of pie crust with mustard, and set aside.
Cook steaks as directed on package, remove from pan and set aside. Add asparagus, onions, garlic, mushrooms and butter and sauté until asparagus is crisp to tender and onions are cooked through. Allow to cool before adding remaining ingredients so as not to cook eggs.
In a large bowl, add the sautéed vegetables to the remaining ingredients, add the steaks, and mix well to combine. Pour into crust.
Bake for 30 minutes or until knife to center comes out clean. Let stand 10 minutes before cutting.
Submitted by Chef Joe Bonanno, 2014 Steak-umm® Firehouse Challenge Judge
8 Servings