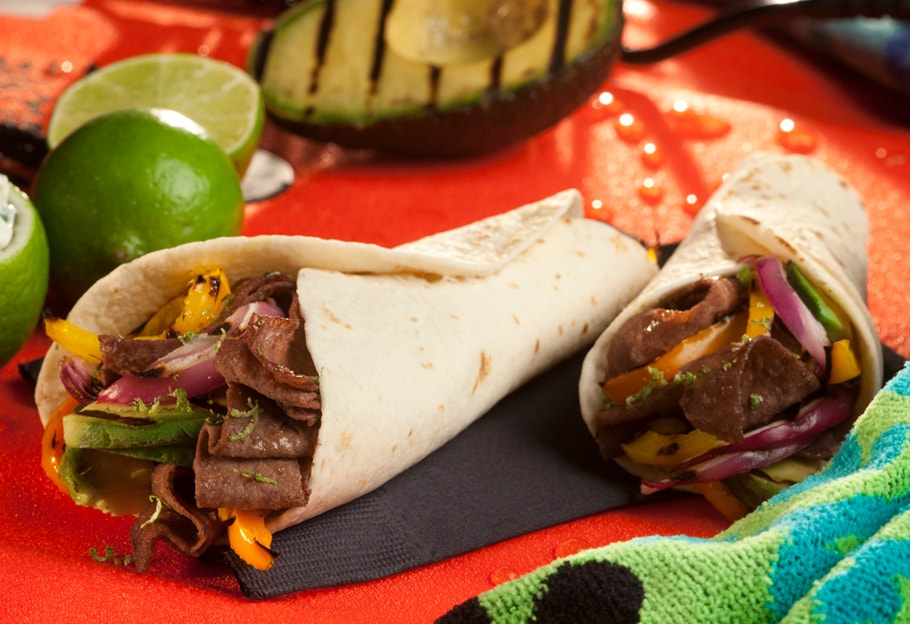 Grilled Avocado and Steak-umm® Fajita Wrap
9 oz. pkg. Steak-umm® Sliced Steaks
Mexican seasoning
1 yellow bell pepper, cut into strips
1 orange bell pepper, cut into strips
1 small red onion, sliced
2 avocados, cut in half (pits removed)
1 Tbsp. olive oil
6 soft tortillas
8 oz. container sour cream
½ cup fresh cilantro, chopped
2 limes (use juice and zest of lime)
Prepare the cilantro cream sauce: combine sour cream, cilantro, 1 Tbsp. lime juice and the zest from one lime; set aside.
Cut frozen steaks into 1-inch strips, sprinkle with Mexican seasoning and cook as directed on package; set aside.
Using a stovetop grill pan prepared with cooking spray, grill peppers and onions. Brush open halves of avocados with olive oil and place cut side down on grill; cook 5 minutes.
Remove from grill, carefully remove skins from avocados; cut in slices.
Top each tortilla with steak, grilled vegetables and avocado slices. Drizzle with fresh lime juice, top with cilantro cream sauce, wrap and serve.