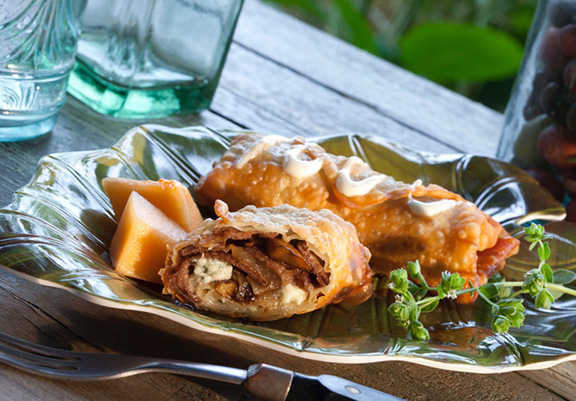 Delmonico Steak-umm® Egg Rolls
9 oz. pkg. Steak-umm® Sliced Steaks
1 medium Vidalia onion, thinly sliced and each slice cut in half
4 oz. white button mushrooms, finely diced
3 Tbsp. finely diced dried porcini mushrooms
2 tsp. sugar
5 Tbsp. unsalted butter, separated
½ tsp. pepper
3 Tbsp. Worcestershire sauce
1 pkg. egg roll wrappers
2 egg whites
1 tsp. extra virgin olive oil
1 pkg. crumbled blue cheese
1 bottle balsamic glaze
Vegetable oil
Blue cheese dressing (optional)
Add 2 Tbsp. butter, sugar and onions to frying pan. Cook on low heat until onions caramelize. Set to the side.
Add white button and porcini mushrooms, remaining butter, pepper, Worcestershire sauce and 2 Tbsp. balsamic glaze to sauce pan. Heat on low to medium heat to sauté the mushrooms. Drain extra water off of mushrooms. Set to the side.
Cook steaks as directed on package, cut into approximately ½" strips, and set aside.
Using one wrapper for each egg roll, brush egg whites along all edges. On bottom third of wrapper, place steaks, mushrooms, caramelized onions, and crumbled blue cheese along the edge, and drizzle with balsamic glaze. Quantity of each is dependent upon the size of the egg roll and your personal taste with onions, mushrooms and blue cheese. Fold in edges of wrapper from the bottom edge toward the top edge. Pinch ends and overlaps of wrapper together to make a good seal. Repeat until all ingredients are used.
In a cast iron frying pan or a deep fryer, heat vegetable oil to 375° F. Add egg rolls and fry until golden brown. Pat dry with a paper towel. May be served on their own or with a side of blue cheese dressing or balsamic glaze for dipping.
Note: May be prepared in advance and stored in a freezer if desired.
Submitted by Firefighter Patrick Jessee, Engine 91/Squad 2/Battalion 7, Chicago, Ill.