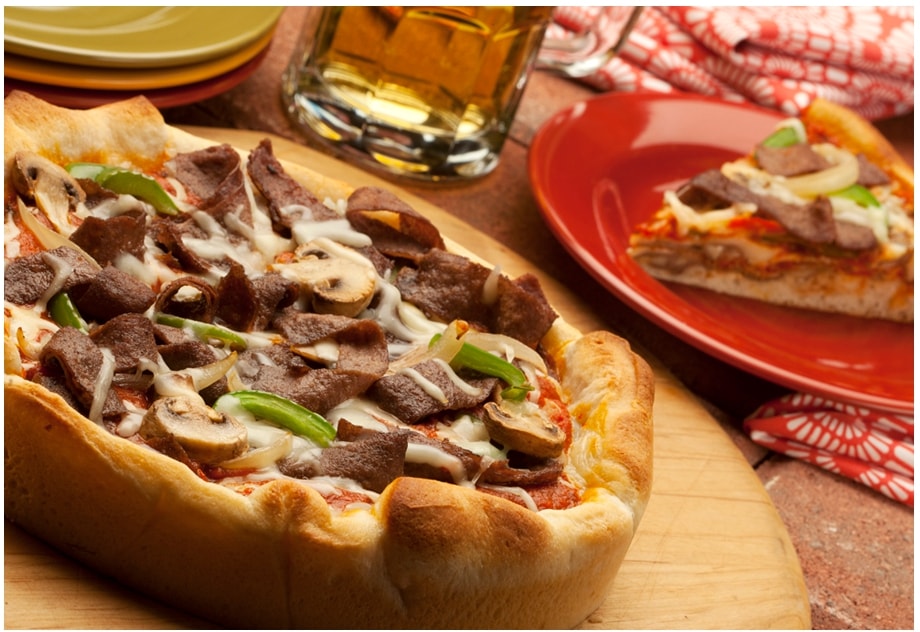 Chicago-Style Deep Dish Pizza
9 oz. pkg. Steak-umm® Sliced Steaks
½ cup sliced green pepper
½ cup sliced onion
8 oz. pkg. sliced mushrooms
13 oz. can refrigerated pizza crust dough original style
8 oz. ball mozzarella cheese, sliced
15 oz. can prepared pizza sauce
½ cup mozzarella cheese, shredded
Preheat oven to 400º F. Cut frozen steaks into 1-inch strips and cook as directed on package; set aside.
In same pan, sauté peppers, onions and mushrooms. Set aside a small amount of steak and vegetables for topping.
Lightly oil a 9-inch cake pan. Unroll dough and ease into pan.
Cover dough with half of the steak, vegetables and sliced cheese; top with a half can of sauce.
Repeat layers and top with set-aside steak, vegetables and shredded mozzarella cheese.
Bake 30-35 minutes, and cut into wedges to serve.