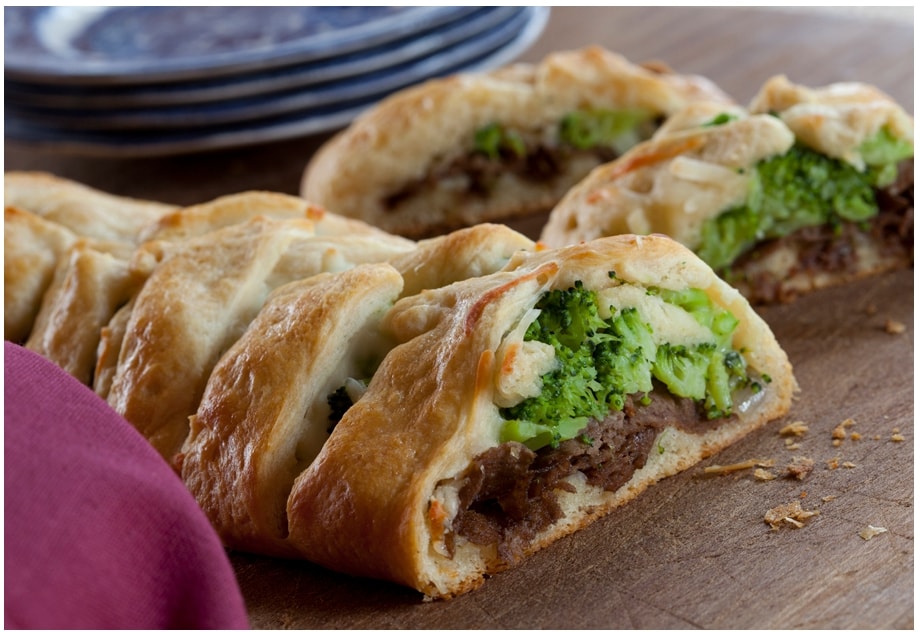 Broccoli Steak-umm® Braid
9 oz. pkg. Steak-umm® Sliced Steaks
1/2 cup chopped onion
3 cups frozen broccoli florets, chopped
1 cup shredded mozzarella cheese
¼ tsp. salt
¼ tsp. pepper
2 8 oz. tubes refrigerated crescent rolls
Cut frozen steaks into 1-inch strips and cook as directed on package. Remove from pan and place on paper towel. In same skillet, add the onion and cook until transparent.
Add the broccoli, cheese, salt and pepper; heat through. Unroll one tube of dough on a greased baking sheet; seal the seams and perforations, forming a 12-inch x 8-inch rectangle. Spread half of steak mixture lengthwise down the center.
On each side of the rectangle, cut 1-inch wide strips 3 inches into center. Starting at one end, fold alternating strips at an angle across filling; seal ends. Repeat.
Bake at 350° F for 15-20 minutes or until golden brown.