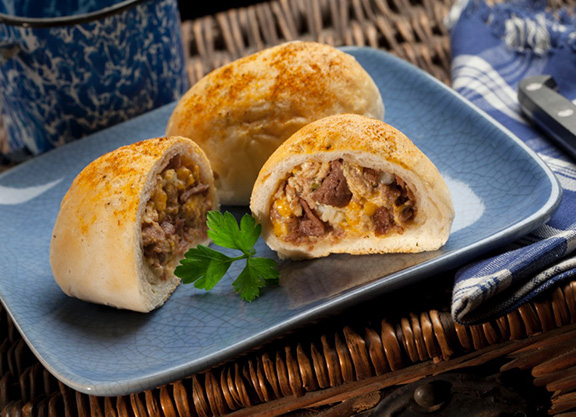 Bay 'n Turf-umm Rolls
9 oz. pkg. Steak-umm® Sliced Steaks
8 oz. pkg. pasteurized or fresh-picked crab meat (preferably Maryland blue crab)
8 oz. pkg. cream cheese spread with chives and onions
1 cup shredded extra sharp cheddar cheese
1 1/2 Tbsp. Old Bay Seasoning
2 Rolls refrigerated large biscuits (8 biscuits per roll)
Preheat oven to 350° F. Prepare a large baking sheet with parchment paper. Cook steaks as directed on package (be careful not to overcook as they will be going into the oven); drain on a paper towel.
Slice/large shred the steaks, and place into a medium-size mixing bowl. Add crab meat, cheeses and Old Bay Seasoning to the bowl, and mix until combined.
Open the tubes of biscuits, and press each biscuit until they are about double their original size. Place a large spoonful of steak and crab mixture onto the center of the biscuit, and wrap it fully with the biscuit. Press the seams together, and place, seam-side down, onto the prepared baking sheet. Sprinkle the tops of the rolls with Old Bay Seasoning, and place into the heated oven for 15-20 minutes until golden. Remove from oven once the rolls turn light brown and enjoy!
Makes 16 sandwich rolls
Submitted by Firefighter Anna (Babs) Gainor, Bowie Volunteer Fire Department Co. 39, Bowie, Md.